06.12.2019: You're Hired ! In conversation with recruiters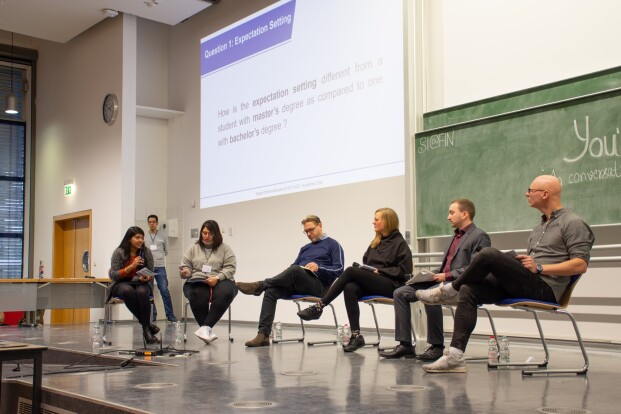 Event: You're Hired! In Conversation with the Recruiters
Date: 6th December(14:00 - 16:30)
Location: Hörsaal 1 , OVGU Magdeburg
Participants: 150
Panellist Names:
Rainer Kärgel
Helena Bergmann
Felix Dieckmann
Dr. Stefan Werner Knoll
Event Objective : To provide a forum to bring in personnel who recruit computer science professionals in Germany and held a panel discussion to help students of FIN get idea about how to build their profiles during their degree program for the German job market. Specifically to discuss how different activities that one undertakes during their studies are evaluated and how the process of recommendation works here in Germany.
Event Summary : The event "You're hired - in Conversation with Recruiters", took place in Hörsaal 1 at the OVGU campus. There was an audience of approximately 150 students and faculty members of OVGU. It started with a brief introduction of the academic club by Christian Wustrau followed by an introduction of the actual event by Mohammed Farhaan Shaikh who, along with expressing the idea behind the event, also explained the structure of the event. After introducing the panellists and seating them on the stage, we started off with the first half of the event. The event was divided into two sections. The first named "Panel discussion" was when the moderators (Sidra Aziz and Subhashree Mangaraj) raised 5 questions related to the various aspects of the German job market with respect to a student's profile. Each of the panellists had an opportunity to give their views and opinions about the topic being discussed. Topics like - How important is the master's thesis? Does it matter to have prior work experience? How important are the recommendations?, among others were discussed during the panel discussion.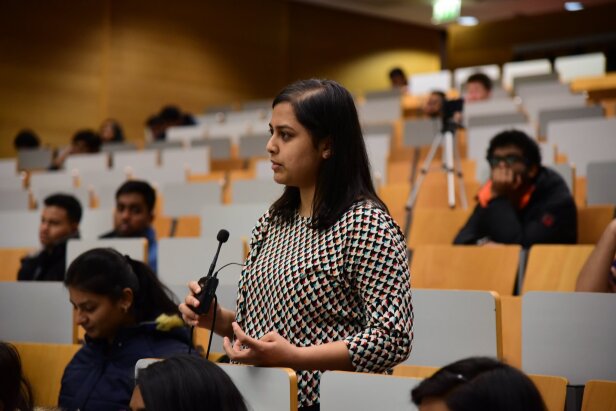 At the end of the first half of the event, the mic was passed to the audience giving them an opportunity to ask their questions directly to the panelists. A lot of important questions were answered during this part of the event. When all questions were answered, the event concluded on a good note with a vote of thanks by Zohaib.
Link to Photographs uploaded on social media : Link

Photography Credits: Ayushi Dani, Budhaditya Mukhopadhyay.