14.12.2018: Master Your Thesis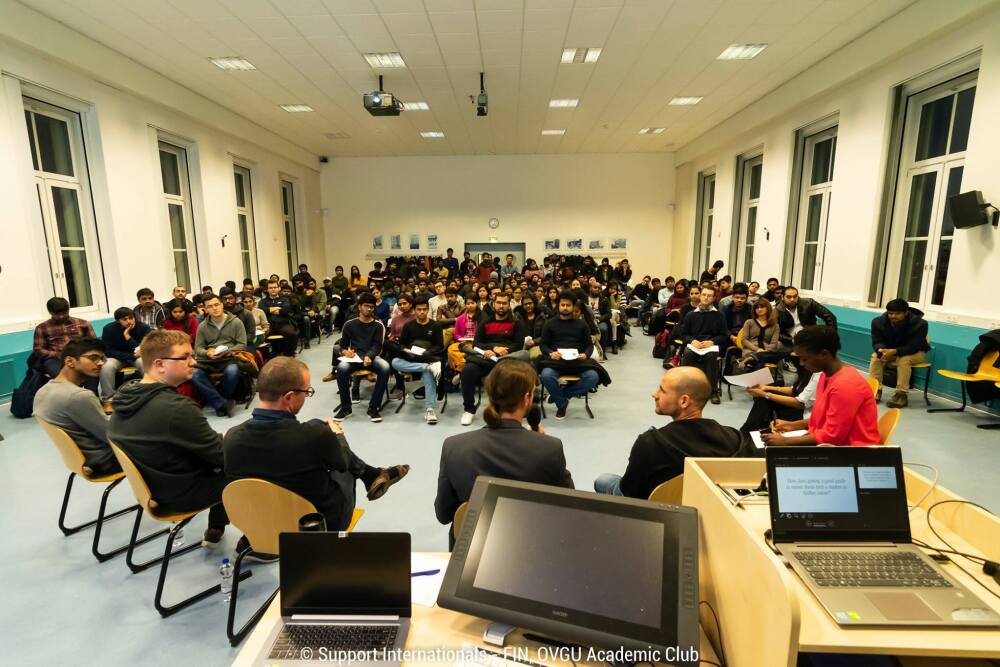 Event name: Master Your Thesis.
Date: 14.12.2018
Format: Panel discussion, following by networking time.
Event objective: To emphasize the importance/significance of master thesis.
Event description:

Master your thesis event was the first event organized by Academic Club. It was held in room G29-307 on 14th of December, 2019. It witnessed such a huge turnout of both international and indigenous students, with a record of about 120 students. Five (5) faculty members from diverse research groups from the faculty of computer science were the panellists (Dr. Sandro Schulze, Johannes Schwerdt, Vishnu Unnikrishnan, Marcus Thiel and David Broneske). Members of the academic club moderated for the event in person of Oyelami Temitope Ibidunni (DE) and Subhashree Mangaraj (DKE).

Chao Yan (DE) presented the agenda of the event, after which Madhura Thosar (Academic club's faculty lead) presented what SI@FIN is all about. Thesis facts presentation was done by Behnam Beladi (DE) who ushered in the panellists and the moderators.

What master's thesis is and why it's so important to do it scientifically are the first set of questions the panellists enlightened the students about. The necessary skill sets needed to successfully and excellently complete master's thesis were also highlighted with practical instances. Plagiarism has been an issue bringing down many researchers over the years, it was emphasized that students need to consciously guide against plagiarism from now as it's a criminal offense.
At the end of the panel discussion, Madhu Thatikonda(DKE) and Zohaib(DKE) anchored Q&A session where students had the opportunity to ask the panellists questions relating to master thesis. Anirban Saha(DKE) gave the vote of thanks.
Many, if not all the students stuck around till the end of the discussion which is an indication that it was positively impactful. We got feedbacks from the students and some requested such an event should be held for a longer period because it's highly informative.
Attendance: 110+
Link to Photographs uploaded on social media: Link