15.01.2020 : Coder's Quest 3.0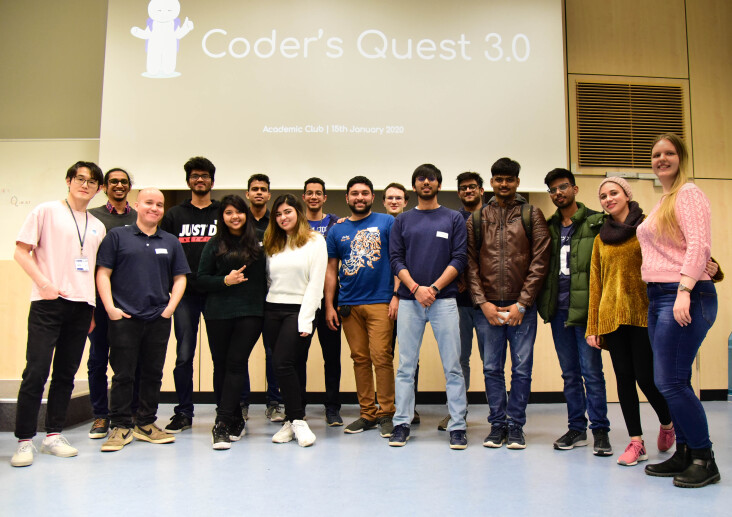 Event: Coder's Quest 3.0
Date: 15th January, 2020
Location: Building G29 - Room 307
Participants: 10
Winners: Team Mars
Event Description :On January 15th, 2020 the third edition of the Coder's Quest took place at the FIN Hörsaal. The event was hosted by the Coder's Quest team of the Academic Club. A total of ten intrigued students from the Faculty of Informatik participated in the event. Along with them, faculty member and the Coder's Quest group advisor Gabriel Campero Durand was also in presence.
The event started with a brief introduction about the Academic Club and Coder's Quest by Fatima Idrees which was shortly followed by the announcement of the competition rules by Oliver Watson. After that, the participants were divided into 3 groups based on a random bar of chocolate that they pick. Their choices resulted in three teams namely "Team Bounty", "Team Twix", and "Team Mars". After the teams were formed, the competition was started which was moderated by Behnam, Chao, and Vikram.
The competition had three rounds where each round had it's respective time constraint and level of difficulty. The competition began with the first round "Rapid Fire".In this round, every participant was given a time of 45 seconds to answer a multiple-choice question. Following this round, a short programming assignment was presented to each team. The final round was the "Eenie Meenie Miney Mo" round. In this one, the leading team on the scoreboard until the second round got to choose a puzzle category of "Physics" and "Maths". Team Mars, which was leading at that point, chose "Maths". Eventually, their choice was smart as they were declared the winners after the three rounds.
The event concluded by a vote of thanks by Gabriel Campero Durand.
Here is a snap of the "Coder's Quest 3.0" winners - Team Mars.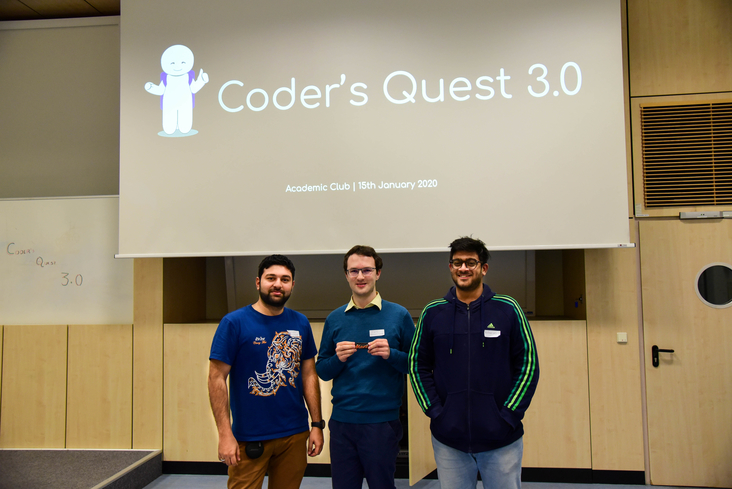 Coder's Quest 3.0 Winners - Team Mars | From left to right - Budhaditya Mukhopadhyay, Carl Stermann-Lücke, Aditya Dey.
Special Mention: The Coder's Quest team acknowledges Carl who has been part of the winning team in every edition of the Coder's Quest.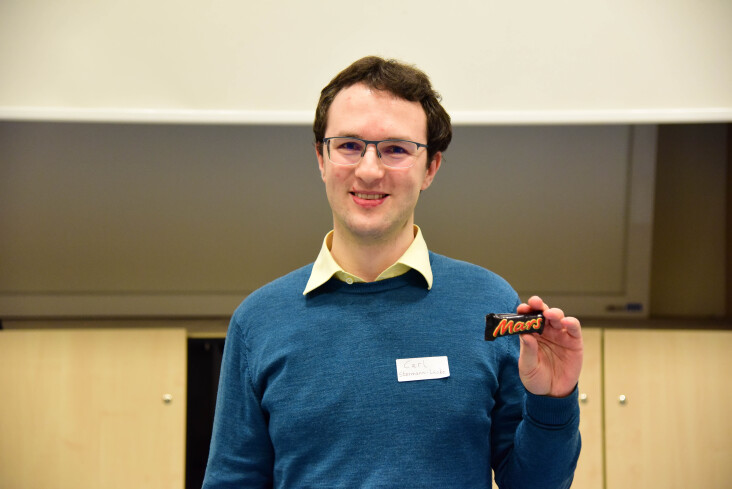 The photographs for the event were captured by Budadithya Mukhopadhyay and Vikram Apilla.